What to Look for When Buying a Sinclair C5
Here's a couple of pointers when looking at a C5 with a view to buying it.
1. Has the Motor and other electrics been tested?
A simple question but one which can tell you a lot about the amount of work required if you purchase the C5. A C5 that has been tested and working will give you a great head start when restoring it. One that has not been tested or is listed as not working will involve some knowledge of the C5 electrics if you're hoping to get it up and running.
Don't assume a C5 that has not been tested is broken C5. A lot of C5's for sale have the original battery which is long since dead and as theres no easy way to connect a modern car battery to test a lot of C5's will be listed as not tested. Once hooked up to a normal battery a lot of C5's work just fine, though buying a "not tested" C5 can sometimes be a bit of a gamble.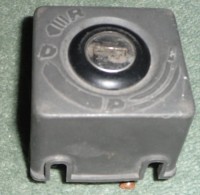 2. Is the Key included?
The original C5's came with 2 keys. One for the keyswitch (power) to enable the electrics and another for the boot. Having at least 1 key is important so you can access and lock the boot, although it is possible to remove the boot lock and replace it with a modern lock at extra cost.
3. Is the front wheel cover included?
The plastic cover for the front wheel may not look like much but they are quite rare and will fetch high prices (£40-£50 on Ebay). Having one makes the C5 more visually pleasing than one that does not.
4. Are the 2 rear wheel covers and caps included?
Again, like the front wheel cover, some C5's are missing these and replacements will cost you extra money, £10 for a wheel cover and another £10 for the inner clip on cover. So if all the covers are missing you are looking at another £40 to get replacements. There are some cheaper none-original wheel covers which although not as nice looking as the originals will make a C5 without any covers look better.
5. Is it running off the original keyswitch/battery top?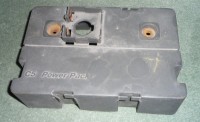 When restoring a C5 a decision needs to be made whether to keep the original battery cover/keyswitch and run it from a compatible car battery (there are not many around) or to remove the keyswitch and modify the wiring to run from any car battery.
Batteries compatible with the original Oldham batteries are 015 and 038. With these you can retain the original wiring if you want the C5 to be as close to the original setup as possible though it's worth noting that the keyswitch assembly is getting quite old now and may need a service.
6. Does it come with any extras? Wing Mirrors, Indicators etc?
A C5 with indicators or wing mirrors will often go for a lot more than one without. A pair of wing mirrors on their own will go for about £70 (£140 if boxed), a set of indicators with the associated wiring can set you back £120 (A lot more if they're boxed, possibly as high as £180).
Other accessories such as High Visibility Mast, Mud Flaps, Side Covers and Horn will also push the price up. For the High Visibility Mast and Mud Flaps, you can often get good quality copies on Ebay from time to time. A full list of official Sinclair C5 accessories can be found in the original accessories handbook.