Recollections by Frank Clements
Frank Clements the M.D. of JHF Cycles Distributors, the company jointly owned and operated by Frank and his wife Rosalie, supplied the bike parts for the Sinclair C5. They have kindly agreed to allow parts of Frank's book, A Bike Ride Through My Life which is available on Amazon to be reproduced here.
A Bike Ride Through My Life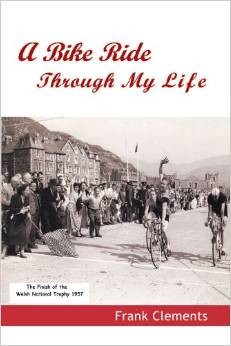 One day, mid moming'ish the telephone rang. Pen in hand and paper at the ready I answered after only two rings. At this time we were getting numerous phone calls by people who thought they could make BMX bikes better and cheaper than anybody else. All they wanted to know from us was, how much the parts cost. how long it took to put them together and how much would they sell for when they were completed?. When would they have to pay for them?. How much credit could they get?.
This morning the conversation went like this:-
"I understand you sell plastic BMX bike wheels" - "Yes, that's right"
"How much are they?" - "It depends how many you buy"
"We would want a lot" - "A container holds about 300 pairs, depends on the size of the wheels"
"We would want two sizes, do you do 20 inch and 15 inch" - "Twenty yes but not 15, we have 14 or 16"
"Were are they from" - "Italy, the biggest and best manufacturer"
"Are they the cheapest?" - "Yes, at the moment they are, and the best delivery"
"Have you got any samples?" - "Yes, we have, it depends on what colour and what size"
"Can you send me some please? And also a quotation" - "I would want to know how many you would use"
"We plan to make 8,000 a week" - "8,000 a year that about 160 a week"
"No, I said 8,000 a week" - "Oh, I see, you did say 8,000 A WEEK" .Aside to Rosalie "I've got a nutter here!."
"Yes, 8,000 A WEEK" - "Oh, I see 8,000 a week"
"We still have some testing to do but will quickly be in full production" - "Yes, OK what size, twenty inch"
"No, two twenty inch and one 16 inch" - "You mean three wheels on each bike?" To Rosalie, "A BMX Trike"
"Yes, two twenties and one 16" - "Does the 16 go on the front?"
"Sorry, can't tell you that at the moment, It's secret" - To Rosalie, "who is this D**k head?"
I began to think this was a friend having me on, I decided to play along and humour the man. I said I am sure you would want to keep a three wheel BMX bike secret, it is very important.
"Can you send off the samples today" - "I can send you samples as soon as we receive payment for them" Usually we sent samples free but I was not going to spend, sorry waste money on some nut with grandiose ideas about building three wheel BMX bikes.
"How much do you want me to send and can you send four 20 inch and two 16 please?" - "Where have I got to send then to?"
"Direct to the factory please" - "Yes. OK, where is that?"
"Norwich, Please send them for my attention Paul McVeigh at Lotus Cars" - I think I coughed and spluttered before I answered "You mean Lotus Cars, the people who make the sports cars?"
"Yes that's it, they are doing all the testing of the vehicle"
Paul McVeigh gave me the address at Lotus, he gave me his phone number, he said he lived near Rugby, he was a 'Purchasing Consultant'. He asked that I send him any more brochures for other parts we could supply. Would I be able to go to Lotus later to see the purchasing Director to talk about the supply of parts for the vehicle.
He never once during this conversation or at any time in our association refer to what they were building as a bike, it was always 'the vehicle'. Within half an hour the samples and brochures were packed and on their way, overnight delivery!. Two days later we got a phone call from a very enthusiastic Paul McVeigh. He had received the wheels, they were ideal but they would need modifications.
They would like to talk to us about these and some of the other parts we could supply. When could we go to Lotus.
I was much too excited to think when, so left it to Rosalie to arrange, Just over one week later we had a long drive to Norwich on a Sunday evening, we booked into a small hotel and next morning prompt at 9.30 drove into the Lotus factory at Wymondham, about 10 miles from Norwich. We were given a conducted tour of the vast offices and development department after many vehicles had been shrouded with covers to make sure we did not see them.
I was in awe with what they were doing. Cars from virtually every manufacturer were being worked on. Paul told us that most of the work done at Lotus was for other companies, who relied on Lotus expertise to sort out any problems they had. All the shrouded shapes were vehicles that were still 'under wraps' as far as the general public was concerned We had coffee in a large glass windowed office looking out over the test track.
Colin Chapman, the man who had started hand building Lotus cars had, ten years earlier bought a disused war time airfield which was now used as the test track. Along one side of the perimeter road they had built an extensive office block and car test facilities. We were told that the test track was still in its original state and had needed very little attention since the war, it had a main runway nearly 1½ miles long.
I suggested to Paul and the three Lotus people who joined us in the office that they go through their specification item by item, Rosalie took a note of each part they mentioned and my reply. Some items they wanted we could not supply so we advised them who would be the best scource. They wanted at least two samples of each item and a quotation. When we came to wheels I still could not believe they wanted three wheels on a BMX bike, I asked them why they call it a vehicle: they were non committal.
We decided that the wheels they had received were not suitable, Yes, they would fit OK but they needed to be able to fit a disk brake on one of them. I asked if they had drawings which I would send to Italy, they promised that I could have a complete set of all the parts but 'later'. As we left we decided that we had to attain credibility with Lotus betore they would let us have sight of the drawings for this very secret project.
We talked together about this latest experience and wondered what Lotus were making. After a few miles on our drive back we started the procedure Rosalie had adopted to make sure that we answered every query Lotus had raised. Rosalie had a triplicate book. If I or the customer mentioned any item, Rosalie would start a new page in the book, she would make a brief note of the customers comments ensuring that she took down any specification details, she also made a note of my reply.
When we talked about the next part she would turn to a new page, with Lotus, in a new triplicate book she had used 38 pages. We had started by talking about handlebars, they did not know how wide or what shape, they wanted us to make suggestions. They definitely had to be black and virtually straight, our supplier Saccon from Italy made handlebars so for a large enough order would make any shape they wanted. They needed 2 samples.
As we drove along Rosalie read out her notes on handlebars to me. I dictated a telex that she would send when we got back to the office later. Lotus wanted special brakes, the brake lever for the front wheel was a standard one, the rear had to be a parking brake. they wanted to be pressed metal, not cast; I dictated a Telex to Rosalie. I thought that Stronglight would not be able to supply the chainwheel, we would ask for a quote but I would telephone Ken Chambers who imported Sugino chainsets from Japan and ask him to quote.
We went through all 38 pages, stopped for a break and arrived back in Willaston about 9.30pm. We wondered what the vehicle would look like so using the specifications that Lotus had given us, Rosalie sketched out what we thought they were making. They had asked for a 120 pitch chain, I had said back to them 120 links and they had said yes. Bicycle chain was, and still is, made with the rivets at ½ inch centres, each one of these is called a link, chain is sold to fit the bicycle in so many links. A 20 inch BMX bike used a 120 link chain.
We drew the vehicle to scale using dimensions they had given us for component parts, we then decided that the vehicle would be covered in a fibreglass body, we could not remember what had been said but had both assumed this. Rosalie drew a body over our 'design', we both smiled and said, oh well, it has been a very enjoyable, if tiring day but how the hell will they sell any of these. If they don't sell any we shall not sell any parts.
After all where can you find 8,000 stupid people each week?. Our design of the vehicle was like a child's three wheeler but with the two wheels much further apart and the rider sitting, high up between them enclosed in Fibreglass. I remarked that it seemed to be a development of the Elswick Hopper 'Scooped' and that had failed miserably. Within four weeks we had acquired all the samples they wanted. We then received a drawing of the parking brake which was, in effect a small modification to the sample Saccon had sent.
We got drawings for wheels incorporating a disc brake and for a chainwheel with much more offset than normal, this we sent to Ken Chambers. We started visiting Lotus every 10 days or so. It was about a five hour hard drive each way. One day, in the office at Lotus, I commented about 'wearing out our Renault 20'. Within half an hour the Sales Director at Lotus called us into his office and made us an offer we could not refuse.
A Lotus Eclat Excel Press Car, had done just over 3,000 miles. He took us for our ride round the test track, he decided we should buy it. One day Paul McVeigh phoned to ask which UK port goods from Taiwan arrived at. We told him, usually Felixstowe or London. He asked if we could specifically request Bristol, I told him that it might delay despatch as fewer boats sailed to Bristol but forgot to ask why Bristol when Felixstowe was much nearer to Norwich.
At that time we assumed that manufacture of the vehicle would take place at or at least near the Lotus factory. In the same phone call he complained that Ben Tan had only sent him one chain and he wanted two. I told him I would bring him another one from our stock. I immediately went to our stock room and got two 112 link BMX chains and put it in the glove box of the Renault On our next visit to Lotus Paul came into the office and asked if we had decided to buy the Eclat.
We had decided that we would, after all £12,000 for a car costing £23,000 seven months ago was a real bargain, and we loved bargains. He was thrilled and explained in great detail how Roger Becker, the Director responsible for the testing of 'the vehicle' parts had collected him at 9.30 in the car and how they had averaged nearly 80 mph all the way to 'the assemblers' without exceeding 85mph. I looked at Rosalie and later, in a quiet moment drew a rough map of the UK showing where the Lotus factory was, where Rugby was and then were 1½ hours at 80mph would get them.
That conversation made us think, if two highly paid men were spending virtually all day going to see 'the assemblers' this was an important project.
I gave Paul the chain, he took it from the packet held it up by one end and immediately said 'this does not look long enough". "It is" I said "112 links". "No" said Paul 'this only looks like 56 pitch. the same size as the two we got from Taiwan". I asked him how he measured chain. He explained that they needed chain 112 inches long, 112 pitch. I had to explain that chain was sold in links of ½ inch so really he needed 224 links, not 112 pitch. The bicycle education went on. On our drive home Rosalie found our 'design' of the vehicle and re drew it with the wheels twice as far apart as our original.
It looked exactly like the Sinclair C5, 'the vehicle' that we allowed to see and ride in on our next visit to Lotus. I called it an 'Electrically assisted, enclosed, pedal cycle'. Nobody at Lotus would tell us what it was going to be described as.
It had been planned to sell 'the vehicle' through bike shops or department stores at a Retail Price of £199.99, At that it would have been fantastic and I could even see large weekly sales even though 8,000 seemed very high. We were asked if we could to see the assemblers to talk to them about bicycle parts. The assemblers were in Merthy Tydfil in South Wales, yes Hoover Limited.
We arrived there on time and were introduced to the Chief Buyer. We had coffee in his office as the room filled up. At 10.00 the buyer called the meeting to order with 16 people in the office. Rosalie and I, Paul McVeigh, the Buyer and 12 other Hoover people, from every department, all waiting to hear every word that came out of my or Rosalie's lips. The meeting went very well, I found myself trying to empty my brain of a lifetime of bicycles.
Every topic from riding, manufacturing, repairing, assembly, selling and the bike trade in general. I dropped one real bollock when the Chief Inspector innocently asked "What tolerances do you work to in the Bike Trade". Well, we don't do we?. I just said, after a brief pause for thought "We don't, we just make thing fit". This did not go down too well but I think the only blot on what was a very rewarding meeting.
After the meeting, as we walked across the road into a brand new 40,000 square foot factory that was having a production line built to assemble 8,000 Sinclair C5's a week.. Paul said "You will be getting scheduled orders for all the parts you have quoted for but immediately we must arrange for you to take our Chief Inspector to see all the factories that will be supplying us". I said "Every one, all of them?". "Yes" he said "Italy, France, Spain if necessary and Taiwan and Thailand".
Three weeks later Rosalie and I with Ken Wall. the Chief inspector, and his wife flew from Heathrow, via Hong Kong for 7 days visiting factories in Taiwan, then four days to see the Vee rubber plant in Thailand. The round trip took nearly four weeks, which included five days holiday on Pucket Island at the end of our trip. On our way back from Merthyr on that very busy day. we stopped at a M5 café. We calculated how much commission we would make on one C5.
For each vehicle we would supply: three wheels, one freewheel, one extra long chain, one pair special design pedals, three tyres and three tubes, one handlebar stem, one handlebar, one pair brake levers with parking brake, a front brake caliper, two brake cables and special handlebar grips to cover 'the accelerator'.
The front forks and the pedals were special designs and made in Taiwan. We would, at the current rates of exchange for the Dollar, the Italian Lire and the French Franc make a total of £1.02 on each vehicle. We could not really believe that we could make £8,160 pounds each week on commission, over £400,000 a year. Something had to go wrong. It did, development of the vehicle took much longer than expected. Sir Clive Sinclair was paying a daily rate to Lotus for development but had put clauses into the contract to ensure that there were no unseen bugs in the design.
Lotus guarded their backs. On one visit we were shown the latest 'test rig'. Two C5's tethered to concrete blocks and were running 24 hours a day. Round and round in circles, outside in all weathers for 4 months, until they stopped. They then rectified or changed the part that had failed. it was called intensive testing. They also had a brake attached to an hydraulic cylinder pulling it on and off 75 times a minute for two months before the design was approved. Every item on the vehicle was tested to destruction. As all this took place our visits to Lotus got less frequent.
We were in regular contact with them . mainly arguing about prices. Paul Mc Veigh spent six weeks refusing to pay the full price for the front brake caliper, he finally agreed a price $0.04 less, less than 1/2 a penny but it kept him busy and his contract running In the July we got our first order for 8,000 sets of parts for delivery in September. A few days later we got another order for 100 sets for Air Freight for production line testing On a cold very wet and snowy November day we were invited to Alexandra Palace, in north London for the presentation of the 'Sinclair C5' Britain's answer to the congestion problems.
It was advertised as a replacement for the car would be sold mainly by Mail Order but through selected Car showrooms. But the biggest crunch about the whole thing was that it had a price of £399.99, I asked Paul what had happened to the £199.99, he just shrugged his shoulders. Rosalie and I were shattered, we had never expected to make the commission that Hoover had intimated but did expect the car. which the Press were now calling it to sell enough to make all our efforts worth while. Hoover had ordered 40,000 sets of parts, they had already built about 2,000 vehicles and we had already received some commission on these but our £400K a year very swiftly disappeared.
The Sinclair C5 never took off with the result that all orders were cancelled, even for the parts still on the water. Hoover at first refused to pay for these. Little JHF took legal action against the mighty Hoover and their accountants Arthur Anderson. They also brought in Lloyds Bank to help them in their battle against us. It was with some pride afterwards that we thought that we had brought out all these big guns. Even their interpretation of the small print on the orders did not deter us. We had only received a small amount of money but the people we worked for and represented in the UK trusted us to get theirs. We set about it. After long negotiations and a very hectic day in the High Court in Birmingham, Hoover finally decided they should settle.
I think they got their money from Sir Clive Sinclair which they were hoping to keep. All the time they had expected us to go away. They would not settle with us until they settled with Sinclair. this meant another full day at our Solicitors office in Birmingham with Hoover Purchasing Director and his Lawyer. We broke half way through the meeting so that they could confer. They then agreed to take all the parts into store and make payment; including a few thousand pounds to JHF. When we got our bill from our Solicitor it was exactly the same amount as the settlement we received from Hoover.
Our Principals abroad got part payment. One condition we had to agree to was that we would arrange to remove the cable clamp bolt from 12,000 pairs of front brake stirrups. Hoover had 1,200 boxes of calipers delivered to us, we opened the boxes, removed the clamp bolt and repacked the boxes which Hoover then collected. If they had planned to sell the parts on then this action meant that the brakes could not now be used for standard bikes, such is the working of some peoples minds.