Sinclair C5 24V Conversion with C5duino/Touchscreen
This project is no longer supported. The content below is provided for information only.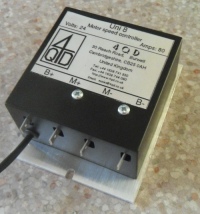 Whilst 24V conversions have been around since shortly after the C5 was launched, none have featured a touchscreen display courtesy of the C5duino V2.0 developed exclusively for C5owners.com.
As with many 24V conversions we will be using a uni-8 motor controller to provide means to power the C5 motor using something called PWM (Pulse Width Modulation) which allows you to precisely control the motor speed with an analog input.
As the C5duino does not directly control the uni-8 you can use any other suitable motor controller you like.
What Screen to Use?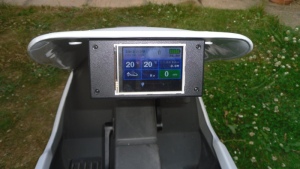 The C5duino is controlled with serial commands and anyone with some basic knowledge of programming and building hardware, whether that be Arduino, PIC or Arm, can create a screen with minimal effort and without having to get involved in the actual C5 hardware and dealing with tasks such as monitoring motor temperature, current, voltage, switches, lights etc.
For this 24V C5 I chose the touchscreen as detailed on the C5duino LCD Touchscreen page. This screen allows you to operate the C5 front/back lights from the touchscreen. There is also a button for hazard lights, and an extra button to control some other external lights.
Software Download
Here is the software for this project. You will need to download and install the Arduino program from www.arduino.cc and then upload this to your Arduino Mega and Nano boards. Instructions for uploading programs with an Arduino are provided on the offical website.
C5duino V2.0 Firmware
C5 LCD Touchscreen V2.0 Firmware
Arduino Libraries (LCD etc)
Gallery
Some images showing the C5 with all the new components in place: