So today we decided that it was time for Scruffy to have the first proper run out in goodness knows how many years.
Still looking like a complete sack of spanners (cosmetics haven't been touched yet aside from a quick wipe down to get rid of the cobwebs!), but with most things greased and checked and a new battery on board, off we went. Complete with half my toolkit in the boot in case of the inevitable breakdowns, and with a bungee cord holding the boot closed.
First trip was just a ten minute trip into Central Milton Keynes and back as a very brief shakedown to make sure nothing was going to fall off or explode. Signs were good, so we went for another trip out up to and around Campbell Park then back home via Conniburrow. In all a trip covering around 7 and a half miles and took us just under an hour including a few stops.
Gremlins that appeared were astonishingly limited to the one that we already knew about in that the chain tension isn't quite on, so we had a few incidents of chain derailment but always easily resolved simply by pulling over and sticking the chain back on.
The only other niggle I think I found was that the front tyre isn't perfectly concentrically mounted on the rim, so you tend to get a bit of a bounce going from the front end at speed. Sure that can be easily resolved though with a bit more careful mounting of the tyre (a new front wheel is inbound though as the current rim is badly worn from the brakes).
Speed...Anyone who says a C5 is slow obviously hasn't been in one I reckon! Really does feel like it shifts incredibly well even on the level, and is just silly down hill. Feels like you're about to go supersonic to be honest!
Brakes definitely leave something to be desired though...think a disc conversion for the front end is certainly something that I may be giving serious thought in due course. Rear will definitely slow you down, but stopping in a hurry from any real speed or downhill seems to be completely out of the question.
Very surprised by how well it goes around corners as well to be honest, even in a couple of instances rather more rapidly than I had originally intended and on less than perfect surfaces...is slightly unnerving when the back end starts to slide though.
Ride is definitely a bit on the firm side isn't it...The redways in MK aren't always exactly smooth, and there were definitely quite a few instances where I found my rear end leaving the surface of the seat. Having my keys and tools rattling around in the boot I reckon probably made these moments sound far worse too from the resulting crashes and bangs from back there.
Battery had just dropped to the yellow bar on the Pod when we got back to the house, though I had been leaning on the motor more than I probably would normally at a few points when I lost the chain, especially on the return leg. Is a new battery as well, which in hindsight I probably should have charged before we set out (it's just a cheap 36Ah automotive one).
All in all, I'm well happy and well impressed with the performance of the beast. Just need to sort out the gremlins with the chain and get it looking presentable then.
I do have the front wheel cover, I just need to try to straighten the one side of it out a bit as it's been wedged in a box for many years and is slightly squashed so it rubs on the wheel. Open to ideas on that one.
Now however, have some photos from the trip. You can also see why this one of the pair has been nicknamed Scruffy. The other one's Wobbly as only the front wheel is bolted on.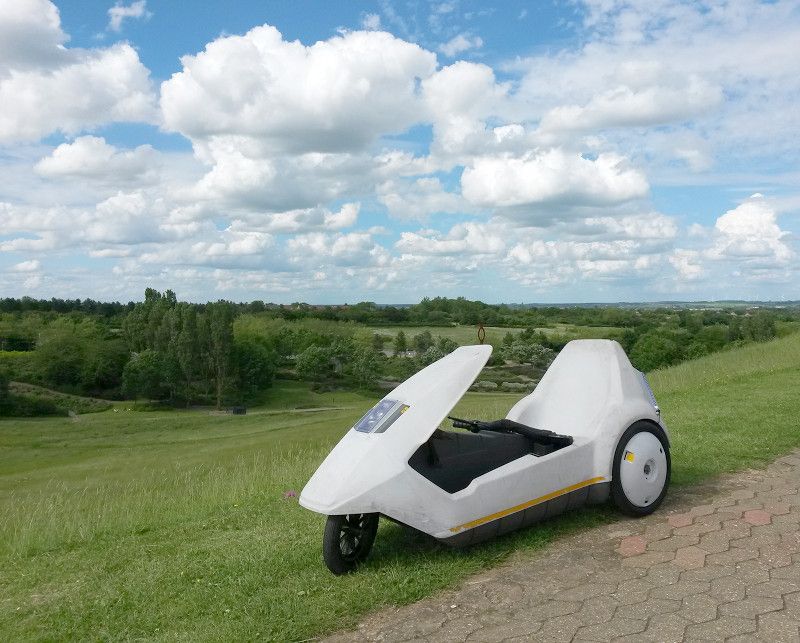 These were all taken while we were in Campbell Park, will try to snap some more next time we're out and about.
Of course the real fun will be once we get them both up and running and have a convoy going.
posted on: 08/06/2014 22:03:45