So after goodness knows how long procrastinating, I've finally got around to picking up a C5.
Having just moved into Milton Keynes where we've got cycle paths all over the place may well have been a deciding factor there as well!
In fact, I've not ended up with one C5, but a pair of them. Both pretty rough around the edges but seeming to be pretty much complete and original.
Haven't had a chance to do much too far with them, but have replaced two knackered inner tubes, re-greased all the wheel bearings and replaced the chain. This was the greatest chunk of rust on the whole thing and having tried to de-rust one on a bike before I just decided it wasn't worth the hassle given how little they cost. Tomorrow hopefully we'll have the first pedal powered test run around the drive and do the first check-over of the electrics.
One has a far better body than the other, so that one will be getting returned to as close to its original appearance as possible. The other is a visual mess, so we'll have to see where that goes cosmetically.
Here they are having just come out of the back of the car yesterday evening and shuffled into the corner.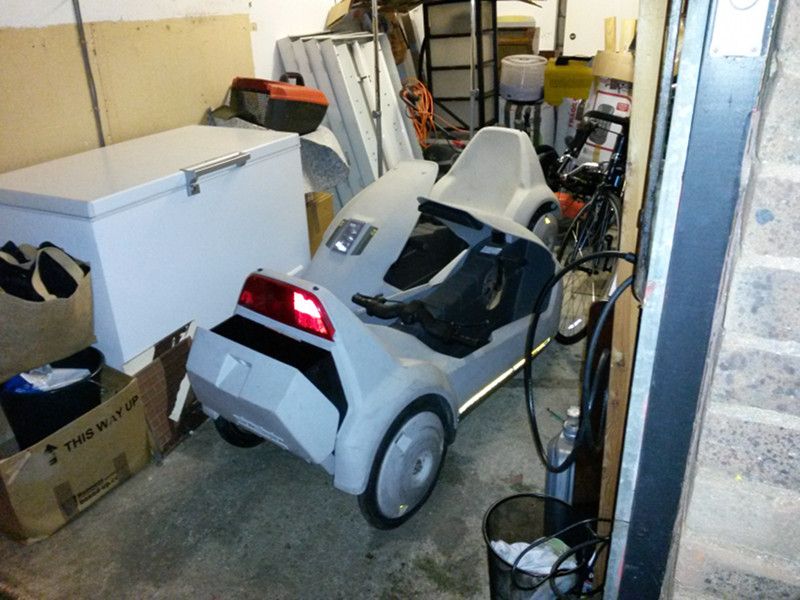 Turns out that you can actually fit a pair of C5s in the back of a Saab 900, even if you can't quite get the boot closed!
posted on: 02/06/2014 21:03:08